Some Progress is better than none!
It has been a frustrating series of weeks: all the usual responsibilities, house guests, etc., plus a few unexpected items. The lawn tractor suddenly quit mowing, though it ran fine. We narrowed it down to being a bad PTO clutch, so that is just another thing to take apart and replace.  Guess that's what happens when you use 30-year-old equipment. 🙂
Then, two days ago, my beloved better half, Ann, discovered that the side porch steps are in advanced stages of rot…so, today, we went and bought all the pressure-treated lumber to replace them. They, too, have been in place for over 30 years, so, I guess, they have served well.
Progress on the 5-String Fiddles
I did manage to make a little progress on some of the acoustic five-string fiddles I had begun, however:
All the linings are in place for two of the instruments (violin and the 14-7/8″ viola.)
The front and back plates are traced and cut out for both of those instruments.
The front plate graduations are complete for the 14″ viola, and
The f-holes are cut out on the 14″ viola, but not refined.
So, this is where things stand, at the moment:
Here is the "Strobelesque" garland with its front and back plates:
No carving at all has been done on the plates, and the Sitka Spruce front plate is still nearly an inch thick. I will plane it down before I begin arching, of course. I do like the look of the spalted maple back and ribs. This maple was from an old Big Leaf Maple tree on the property where Ann grew up. It had begun to show signs of decay, and was removed for safety's sake. Too bad for the loss of the tree, but it is nice wood.
Here is the 14-7/8″ Viola garland with its front and back plates.
This one is my own design. In fact, it was the very first form I ever made, thinking I was just going to make a viola for my youngest son (whose name is on the form, along with the date: 1999.) As it happened, I discovered that lutherie is addictive, and I have been building instruments ever since. 🙂
The center-lines on both plates are ink, not a glue-line: this instrument boasts both a one-piece Spalted (Big-Leaf) Maple back plate (also from the tree at Ann's childhood home) and a one-piece Sitka Spruce front plate.
Here is the progress on the 14″ Viola: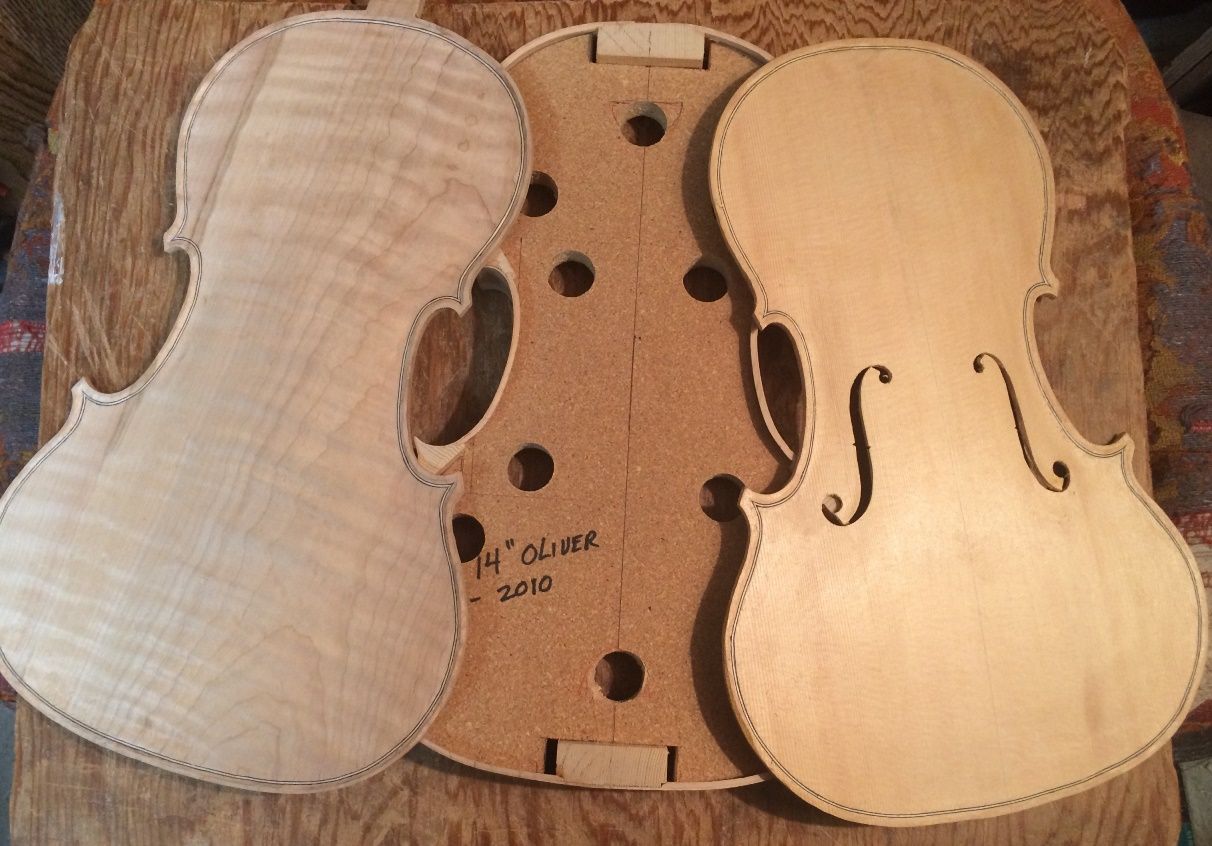 This one is my own design, too: it is the same length as a standard violin, but much wider in the lower bouts, and deeper in the ribs. It will be interesting to see how it works as a five-string fiddle. (This is a first.) This one has an Englemann Spruce front plate and a one-piece Big Leaf Maple back from a log I was given by Terry Howell, years ago.
I will post more reports as the work takes place. Feel free to contact me if you have questions.
Thanks for looking.