Here (in reverse order, newest to oldest) are the handmade  acoustic five-string fiddles I have made: (More on the way!)
~~~~~~~~~~~~~~~~~~~~~~~~~~~~~~~~~~~~~~~~~~~~~~~
Sound files:
For some of these instruments, I had a young fiddler (Daniel Forster) play sample recordings, so you can hear them on "Vimeo". He lives some distance away, so he is not always available. (Besides, some of these were sold before I could do more than snap a few photos, so that is all I have for them.)
More recently, I was privileged to have Jenny Estrin, Concertmaster of the Eugene Symphony Orchestra record videos for some of the instruments, to show their capacity for both classical and fiddle applications.
~~~~~~~~~~~~~~~~~~~~~~~~~~~~~~~~~~~~~~~~~~~~~
Five-String Instrument #15: Oliver Five String Fiddle
Orcas Island Tonewood sold me all the wood for this instrument: the back, sides and neck are Big Leaf Maple, and the front plate is Engelmann Spruce. I modeled this instrument after the 1735 "Plowden" by Guarneri del Gesu.  It has a very strong voice, very well balanced across all five strings, for both volume and tone quality.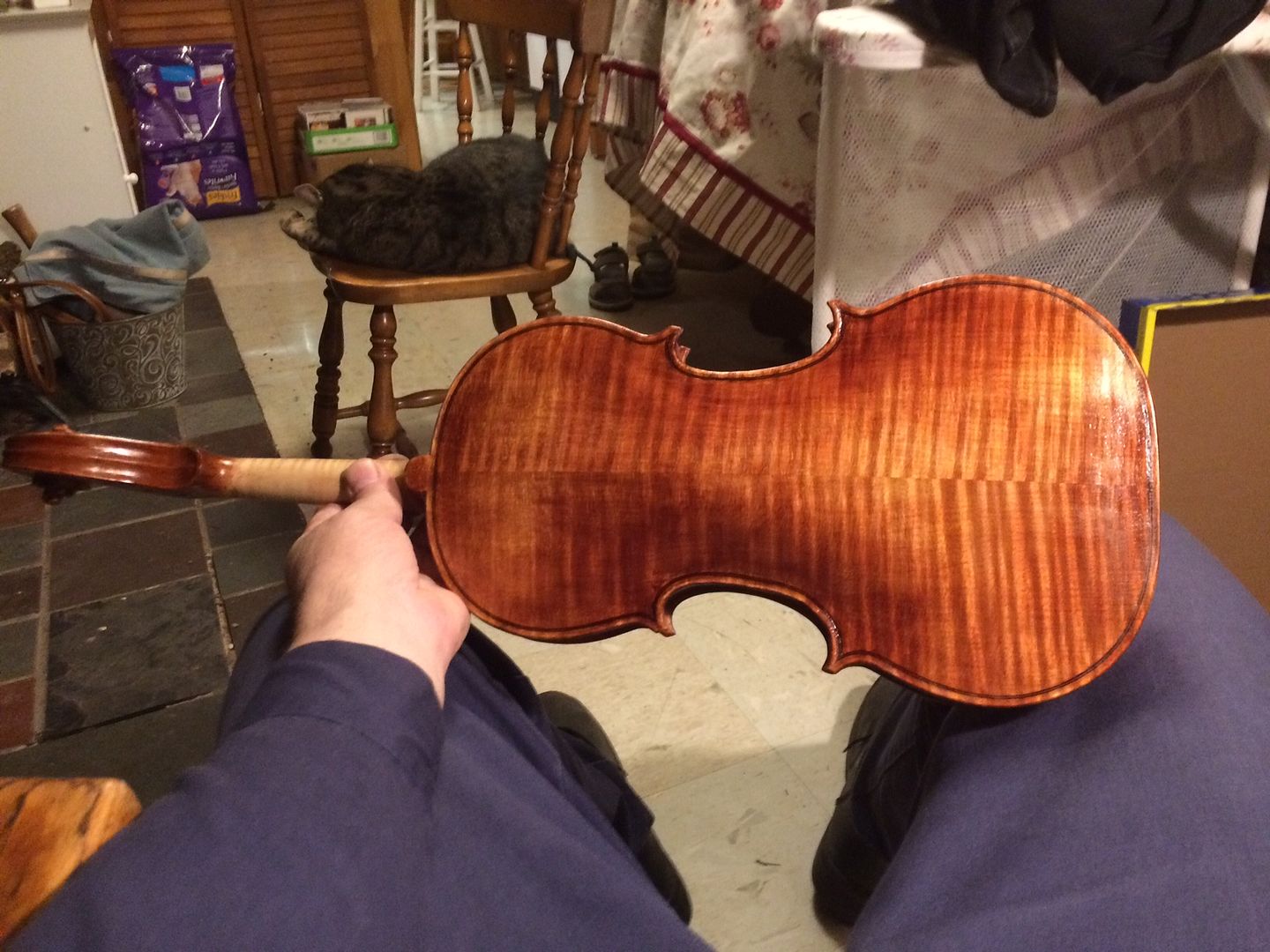 Five-String Instrument #14: Oliver Five String Fiddle
Bruce Harvie, of the Orcas Island Tonewood company, sold me the Big Leaf Maple for the back, sides and neck of this instrument. I was given some very straight-grained Douglas fir which proved a good choice for the front plate. The instrument  has a big deep voice, very strong and clear across all five strings.

Five-String Instrument #13: Oliver Five String Fiddle (SOLD)
I built this five-String fiddle from highly-figured and spalted Big Leaf Maple salvaged from a tree (the "Vallery" tree) on my wife's parents' property, where she grew up. Now I wish I had a lot more of this wood, but, sadly, much of the tree was lost to rot. The front is Sitka Spruce. I made it on a personal model, and the sound is very good, strong, and well balanced across all five strings.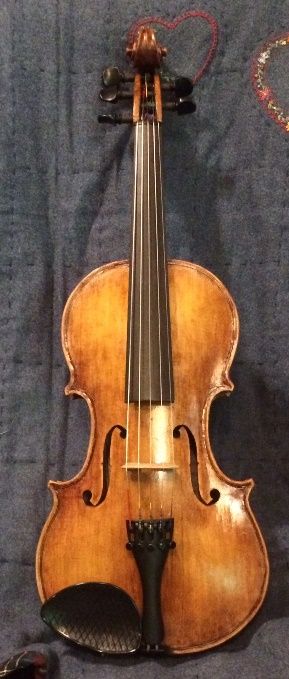 Here is a YouTube video of the above five-string fiddle (#13,) being played in a Canadian trio:
Five-String Instrument #12: Oliver Five String Fiddle (SOLD)
I made this instrument, also, from the scrap from the other side of the double bass, so it is the "sister instrument" of #11, below. It has a Douglas Fir top (which is unusual),  a very powerful voice, very clear C-string, and perfect balance across all five strings.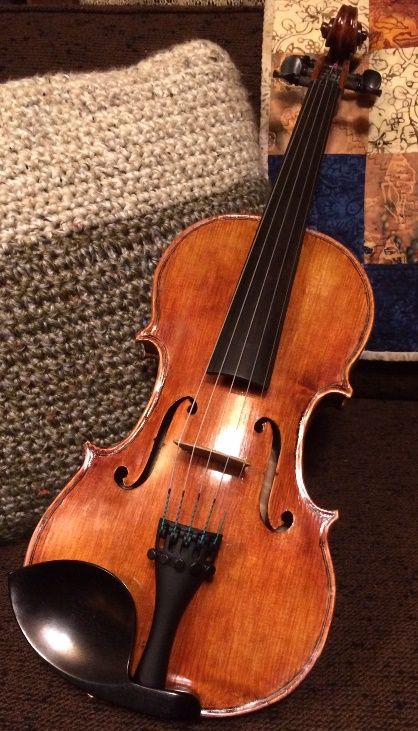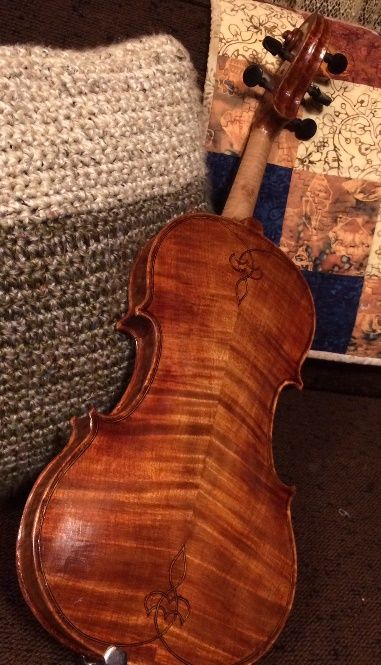 Five-String Instrument #11: Oliver Five String Fiddle (SOLD)
A customer called and asked for a five string fiddle. He really wasn't interested in the ones I had in stock, so ultimately, I made this one for him from maple left over from the Five-String Double Bass built just before it. I had used Big Leaf Maple from just outside the Treble C-bout on the bass for the back and neck of this fiddle. With the Sitka Spruce front plate, the fiddle plays with  a big voice: very clear and very well-balanced across all five strings.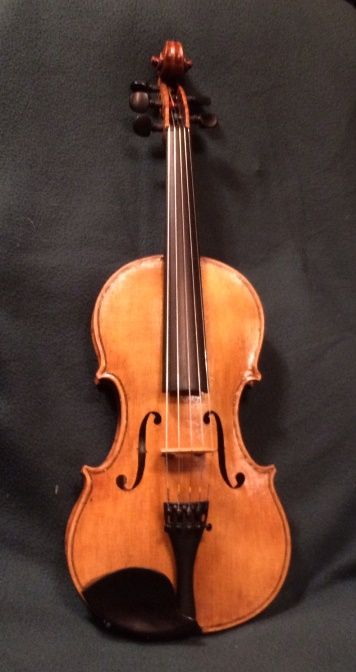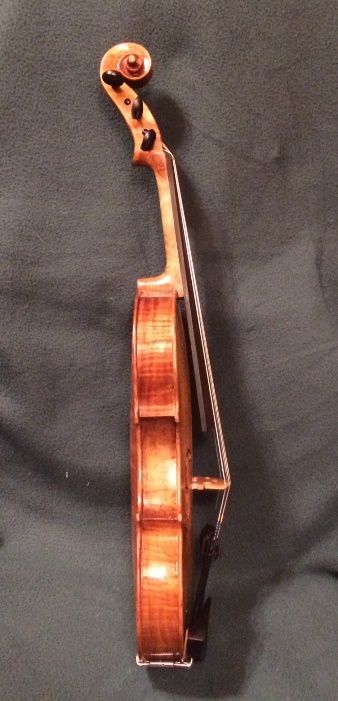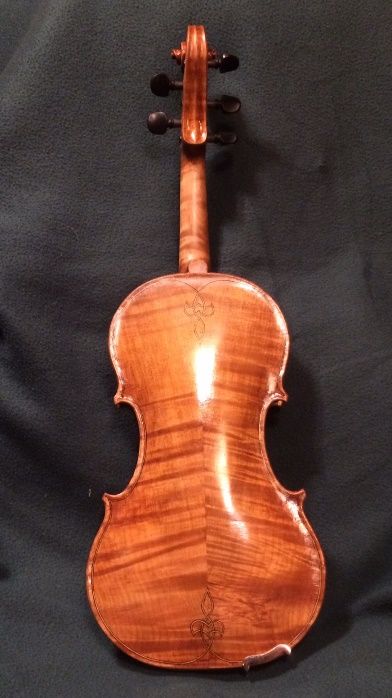 Five-String Bass #1: Oliver 5-string Double Bass with removable neck.
Just completed this bass in August of 2020: I am very satisfied with the new model. Originally, I had sketched the shape I wanted a bass to have, and later, I decided on the features I wanted in a bass. The result, years later, is my personal design.
I am especially pleased with this instrument, as it is my first five-string double bass as well as my first instrument with a removable neck. There are other choices possible, but eventually, I strung it "C-E-A-D-G," which, of course, eliminates the need for an extension. It is a 5/8-size bass, with a D-neck and a 40″ scale. The bass produces good sound, well balanced across all five strings.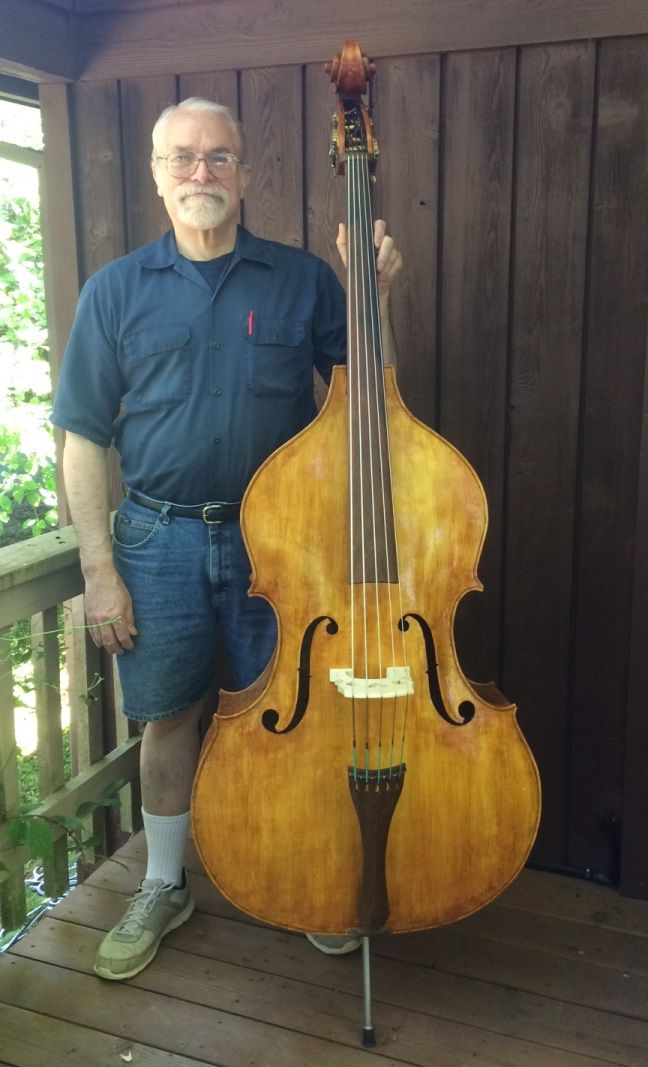 Five-String Instrument #10: Oliver 5-string 16-1/2″ Viola
A fellow at the Wintergrass 2020 festival had said he wanted a large five-string viola, so I made this one of European Maple and spruce. I haven't any sound files for this instrument, yet, but I believe it is my best viola so far. It has excellent, powerful voice, and well-balanced across all five strings.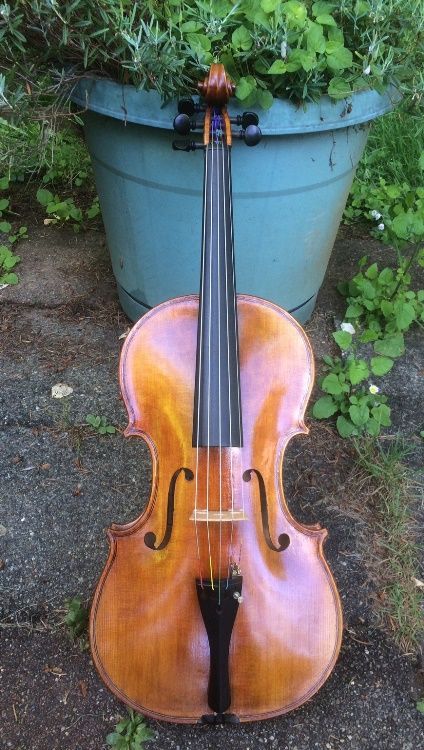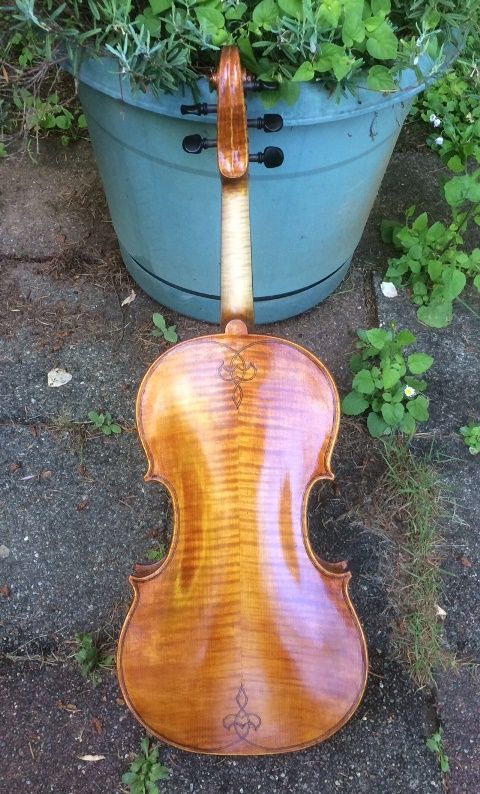 Five-String Instrument #9: Oliver 5-string 15″ Viola
Someone asked why I didn't have more five-string violas, so, afterward, I made this one on the same mold from which I made my very first instrument. The original was a four-string viola with abalone-shell inlay on the back, which I made for my youngest son. Since then, I have used the same mold at various times, but this is the first five-string viola from this mold.
For this viola, I built the back, sides and scroll of Oregon Big Leaf Maple, heavily flamed, and spalted as well, as it was salvaged from a old tree in my wife's parents' yard. The belly is Sitka Spruce.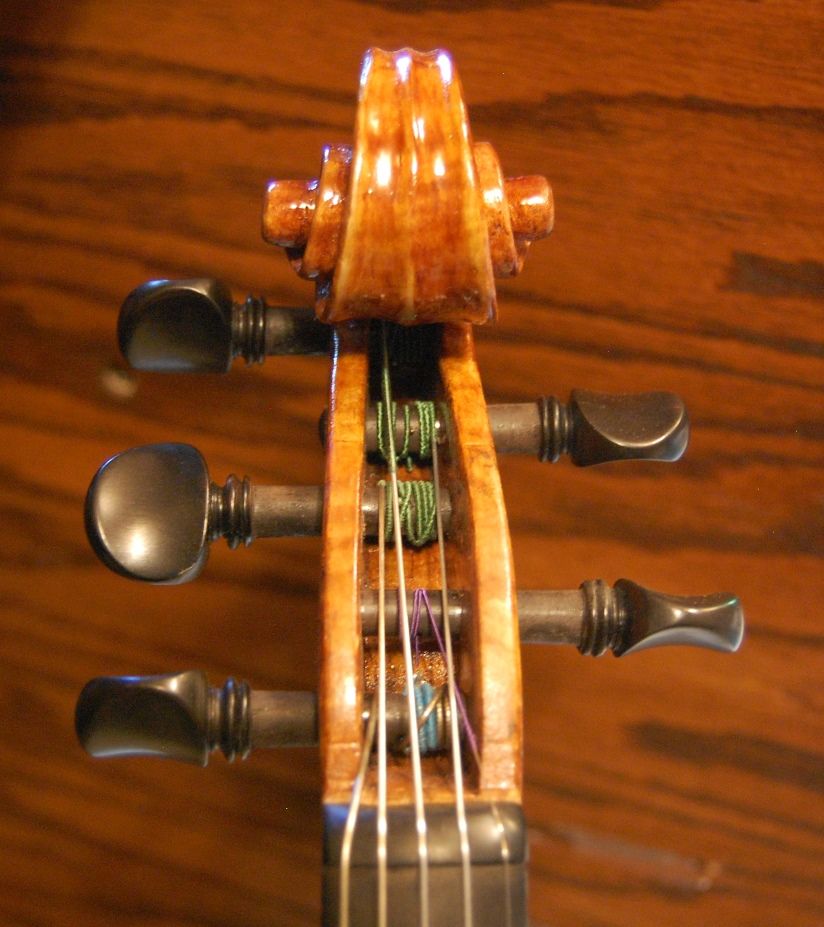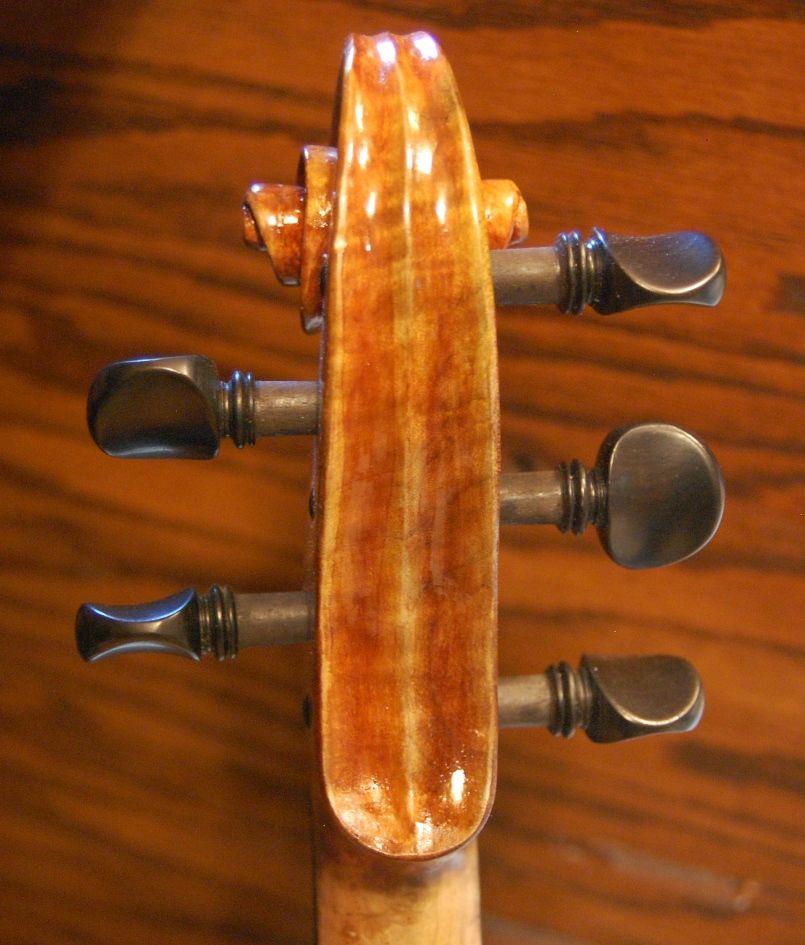 Five-String Instrument #8: Oliver 5-String 14″ 'Tertis-style' Viola .
Originally, I began this instrument as an experiment, not even being aware of what a "Tertis" viola looked like. (Of course, I had heard of Lionel Tertis, and his work, but I had never seen a "Tertis viola.") Anyway, I was pleased that it turned out to be a pretty powerful little 5-string 14″ viola, and it sounds great. I am thrilled to hear it play, as it is well-balanced across all five strings.
After I had completed the instrument, a customer spotted the fact that it was similar to a Tertis. She said, "A 14″ Tertis! I'll bet that would have made the old boy mad!" So, later, I looked for pictures of "real" Tertis violas on the internet, and it turned out she was right.
Terry Howell gave me the Big Leaf Maple for the one-piece back, the neck and the ribs (harvested near my home,) and the belly is Sitka Spruce.
~~~~~~~~~~~~~~~~~~~~~~~~~~~~~~~~~~~~~~~~~~~~~
Five String Instrument #7: Oliver Five String Fiddle (SOLD)
A customer emailed me, asking about a commissioned instrument: She wanted very specific things, such as Oregon tonewoods, Ipe wood for the fingerboard, nut and saddle, wide nut, high bridge, etc.  She drove the 2-1/2 hours to get to my house, and then she spent several hours playing my available four- and five-string instruments.
After she had played all my instruments, then she could also say which particular model she liked, and what color and other specifics she liked. (She liked double purfling, with the fleur-de-lis purfling weave; and she liked heavily flamed maple, but very straight-grained spruce.) I began the commission on December 14th, 2019, and she eventually took possession of the instrument on February 29th, 2020. (She had very kindly allowed me to take the new instrument to the Wintergrass 2020 bluegrass festival, where it met with great reviews.)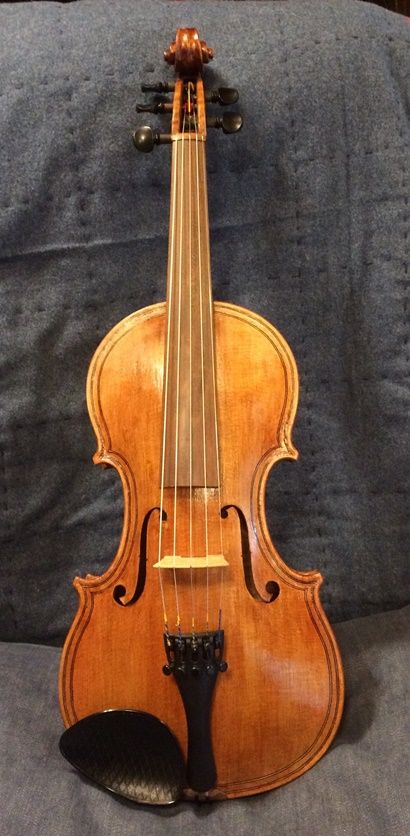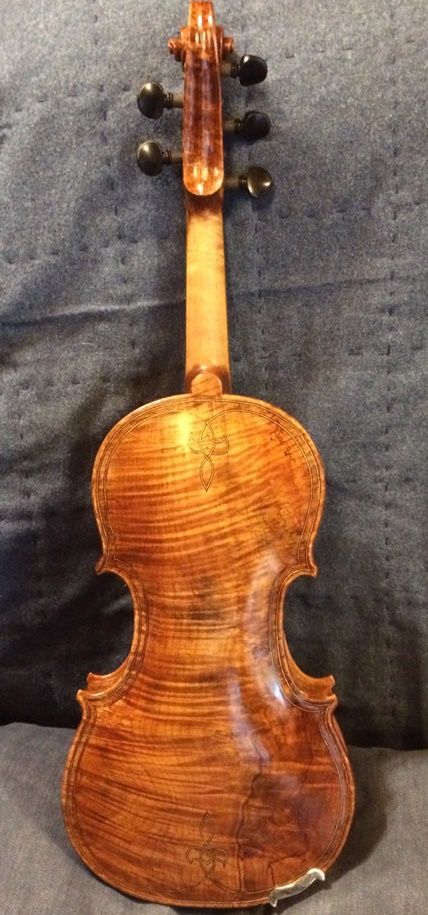 ~~~~~~~~~~~~~~~~~~~~~~~~~~~~~~~~~~~~~~~~~~~~~
Five String Instrument (not numbered:) Oliver Violoncello Piccolo
Honestly, I only made parts of this one: That is why it is not numbered. A fellow had contacted me and  expressed an interest in a handmade five-string cello. He eventually said he was leaning toward a violoncello piccolo, which was a relatively rare instrument from the early 1700's, and which is credited to J. S. Bach.
When I researched the instrument, I found that the originals were about the size of a modern 1/2-size cello, but they had five strings, and it is thought that the Bach Cello Suite #6 is written for just such an instrument.
I had an old, Romanian factory-made 1/2-size cello, which had been languishing in my shop. (Years earlier,  I had made a new Spruce Top plate for it, as it had come to me missing that part.)  But, no one had ever wanted it, so I simply knocked the original neck out of it, and carved a new neck and scroll, in a five-string configuration of my own design, and produced a "sample."
The customer eventually flew in, and spent a couple of hours playing it and my other cellos. Ultimately, he left without placing an order, but the project was interesting, at least, and now I have built a small 5-string cello!  🙂 So, I can build more from scratch, if there is ever a resurgence in demand.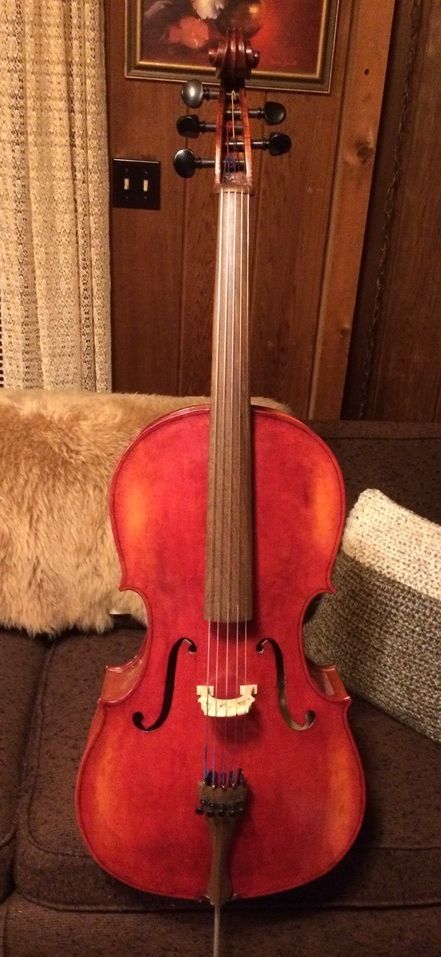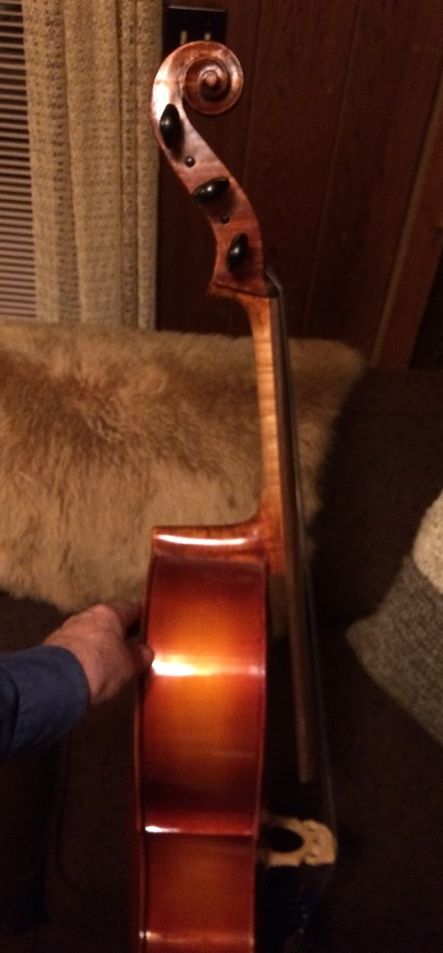 ~~~~~~~~~~~~~~~~~~~~~~~~~~~~~~~~~~~~~~~~~~~~~~~
Five String Instrument #6: Oliver five-string fiddle (Sold)
Originally, I made this instrument "by request," but not exactly as a commissioned instrument: more like an "experiment."
Cliff Stansell asked me to try making a fiddle of Oregon Myrtle and Port Orford Cedar. His brother, Les Stansell, makes guitars, and sells wood, and he kindly donated the wood for the experiment. (Thanks, Les!) And, of course, after they had gone to the trouble to get me the wood, I went ahead with the build. I'm glad I did!
Happily, I found that the fiddle plays quite well, and it continues to improve as it opens up. Eventually, I sold it to a fiddler in Southern Oregon, who continues to be thrilled with the sound and playability.

Fiddle #28 from Chester O. Bishop on Vimeo.
~~~~~~~~~~~~~~~~~~~~~~~~~~~~~~~~~~~~~~~~~~~~~~~~~~~~
Five String Instrument #5: Commissioned Oliver 5-string fiddle (SOLD) Read the Book, here.
From the beginning, I treated this instrument as a "special project:" The customer came to me with the wood for the back, neck and ribs, and asked whether I could build a five-string fiddle out of it. He had bought the wood in Hawaii; it turned out to be curly Koa, harvested in 1982 or before, as that is when he bought the wood, and he had been carting it around with him for over 30 years.
After accepting the commission, I discovered that Curly Koa was extremely difficult wood to work– very demanding of skill and patience. Ultimately, however, the instrument worked out well: It plays superbly. We chose Sitka spruce for the belly (front plate.)
~~~~~~~~~~~~~~~~~~~~~~~~~~~~~~~~~~~~~~~~~~~~~~~~~
Five String Instrument #4: Oliver 5-String fiddle
I can't say for sure what kind of maple this is. A friend, who has no idea what it was, gave me the maple: but the spruce is Sitka. He gave me a whole pile of things related to lutherie, including the wood, and later, I decided to make a five-string fiddle of the wood.
The fiddle plays well, sounds great and looks very pretty. I made it to the same mold as my other five-string fiddles, but the wood will have to remain a mystery. It has played well from the beginning, and has improved with time.
Daniel Forster on Instrument #26 (5-string #4) , a 5-string fiddle by Chet Bishop from Chester O. Bishop on Vimeo.
~~~~~~~~~~~~~~~~~~~~~~~~~~~~~~~~~~~~~~~~~~~~~~~~~~~~
Five-String Instrument #3: Oliver 5 string fiddle (SOLD)
I made this fiddle from Oregon Big Leaf Maple and Sitka Spruce on a personal model. It is unusual in that it has both a one-piece back and a one-piece front.  We harvested the maple from the same tree as five-string instrument #2.  (Since then, I have also made one cello, a bass and a viola from that log, and I have a lot more of that wood, so there will be more to come.) This instrument plays easily and has a powerful, big voice, a deep clear C-string, and good balance across all strings.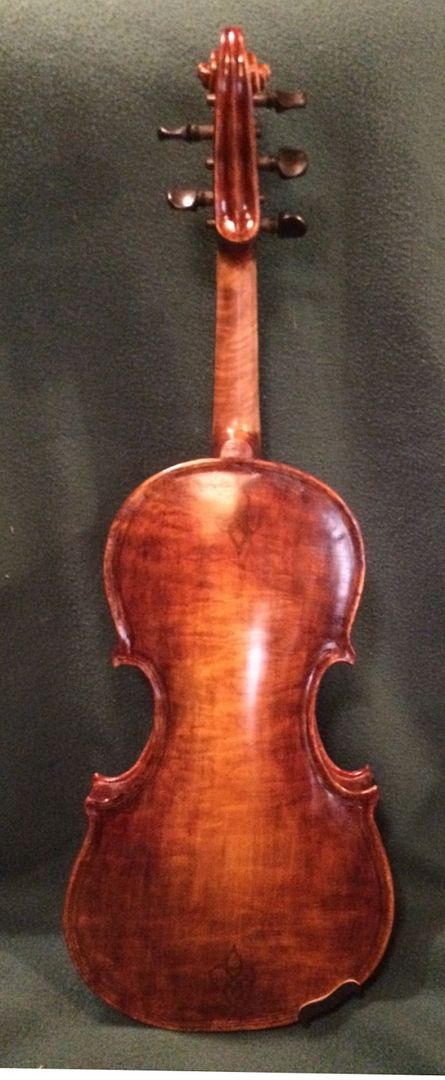 Daniel Forster playing Instrument #24 by Chet Bishop, Luthier from Chester O. Bishop on Vimeo.
~~~~~~~~~~~~~~~~~~~~~~~~~~~~~~~~~~~~~~~~~~~~~~~~~~~~~~~~~
Five String Instrument #2: an Oliver 5-string fiddle. (SOLD)
Soon after receiving the (well-seasoned) log, I made this instrument of Big Leaf Maple, from the log pictured in the "wood choices" blog post. After Terry Howell gave me that log, I was anxious to use some of it, so this is the first of many from that log. The fiddle played very easily, and it looks and sounds wonderful: It sold immediately, and, sadly, I never saw it again, as the customer bought it and then moved out of the state.
Five-string fiddles are rapidly gaining in popularity and demand. I plan to build many more 5 string bluegrass fiddles in the years to come.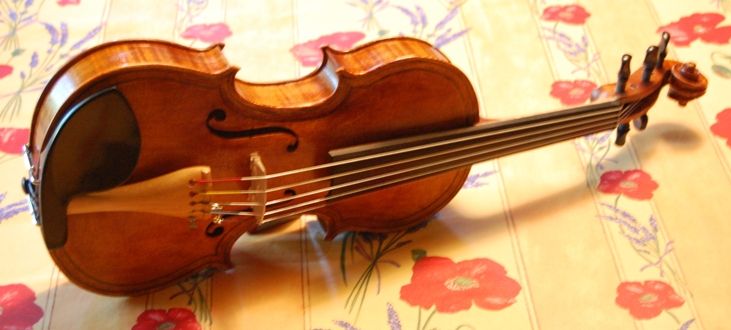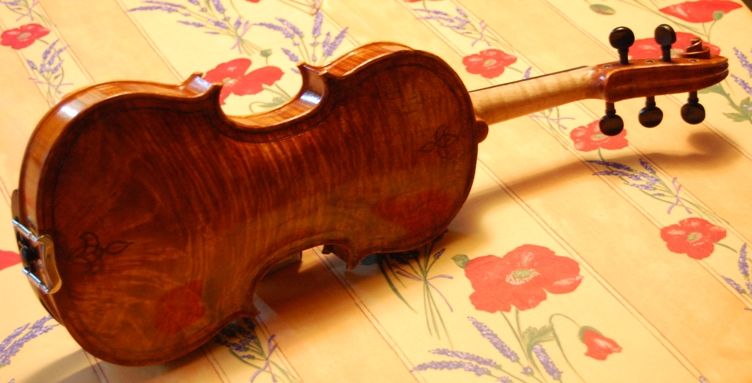 ~~~~~~~~~~~~~~~~~~~~~~~~~~~~~~~~~~~~~~~~~~~~~~~~~~~
Five String Instrument # 1: An Oliver Five-String Fiddle (or five-string violin) SOLD
I had never built a 5-string fiddle: this was my first attempt. An experienced and popular professional fiddler (Cliff Stansell) from a Southern Oregon band (the Pistol River Trio) approached me at a show, and asked about them, so, afterward, I decided to build one.
Eventually, I used a back made of maple of uncertain origin (salvaged from a broken student instrument,) but the sides and neck are Red Maple from Elon Howe, in Newaygo, Michigan. And, I'm not sure where the Sitka spruce was harvested, but it is quite dense. I usually do not use wood that dense for the belly. It turned out well, though.
I planned the instrument as a five-string from the start: first, I made the ribs deeper: 34mm at the end block, tapering to 32mm at the neck block. Then, I also made the pegbox longer to accommodate the extra peg, and finally, I deepened the bass-bar to about 17mm, for more support on the lower strings. The archings are just a little higher than my usual, as well, but not out of the ordinary.
It plays remarkably well. It is well-balanced, and all, but I am not used to the flatter bridge shape that fiddlers like, so it was difficult for me to get used to it. Other than that, I'm very  happy with it. As it turned out, I took it to the same show the next year, and everyone who played it, loved it. Ultimately, Cliff  bought it, himself.. Now we are both happy. 🙂

~~~~~~~~~~~~~~~~~~~~~~~~~~~~~~~~~~~~~~~~~~~~~~