Here (in reverse order, newest to oldest) are the five-string fiddles I have made: (More on the way!)
~~~~~~~~~~~~~~~~~~~~~~~~~~~~~~~~~~~~~~~~~~~~~~~
Sound files:
For some of these instruments, I had a young fiddler (Daniel Forster) play sample recordings, so you can hear them on "Vimeo". He lives some distance away, so he is not always available. Besides, some of these were sold before I could do more than snap a few photos, so that is all I have for them.
~~~~~~~~~~~~~~~~~~~~~~~~~~~~~~~~~~~~~~~~~~~~~
Five String Instrument #6: Oliver five-string fiddle (Sold)
This one was also by request, but not a commissioned instrument…more like an experiment. Cliff Stansell wanted me to try making a fiddle of Oregon Myrtle and Port Orford Cedar. His brother, Les Stansell, is a guitar-maker and wood dealer, and donated the wood for the experiment (Thanks, Les!). The fiddle turned out to play quite well, and continues to improve as it opens up. It sold to a fiddler in Southern Oregon, who is thrilled with the sound and playability.

Fiddle #28 from Chester O. Bishop on Vimeo.
~~~~~~~~~~~~~~~~~~~~~~~~~~~~~~~~~~~~~~~~~~~~~~~~~~~~
Five String Instrument #5: Commissioned Oliver 5-string fiddle (SOLD)
This was a special project, from the beginning, as the customer came to me with the wood, asking if I could build a five-string fiddle out of it. Turned out to be curly Koa, harvested in 1982 or before, as that is when he bought the wood, and had been carting it around with him for over 30 years. It was very difficult wood to work– very demanding of skill and patience. But it worked out well, and plays superbly. The belly (front plate) is Sitka Spruce.
~~~~~~~~~~~~~~~~~~~~~~~~~~~~~~~~~~~~~~~~~~~~~~~~~
Five String Instrument #4: Oliver 5-String fiddle
I can't say for sure what kind of maple this is, as the wood was given me by a friend, who has no idea…but the spruce is Sitka. The fiddle is pretty, and sounds great. I made it to the same mold as my other five-string fiddles, but the wood will have to remain a mystery. It has played well from the beginning, and has improved with time.
Front of Oliver Five-string Fiddle in the sunshine.
Daniel Forster on Instrument #26, a 5-string fiddle by Chet Bishop from Chester O. Bishop on Vimeo.
~~~~~~~~~~~~~~~~~~~~~~~~~~~~~~~~~~~~~~~~~~~~~~~~~~~~
Five-String Instrument #3: Oliver 5 string fiddle
This handmade five string bluegrass fiddle is made from Oregon Big Leaf Maple and Sitka Spruce. It is unusual in that it has both a one-piece back and a one-piece front.  The maple is from the same tree as five-string instrument #2. ( I have also made a cello from that log, and I have a lot more of that wood, so there will be more to come.)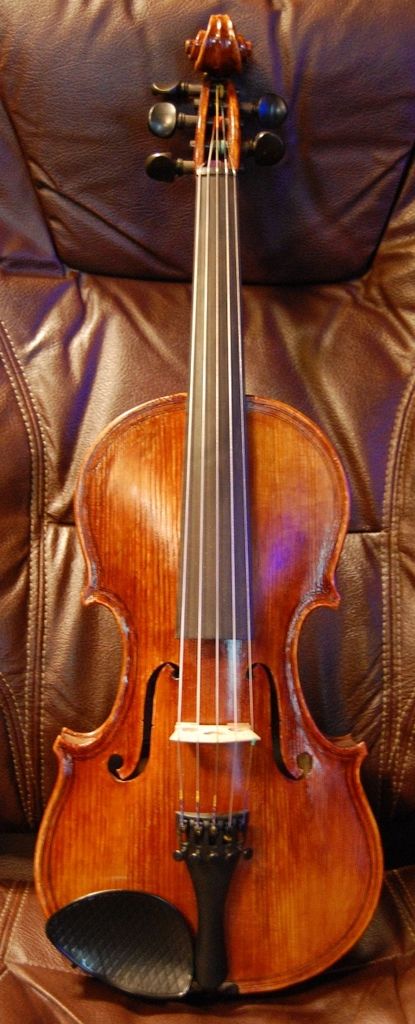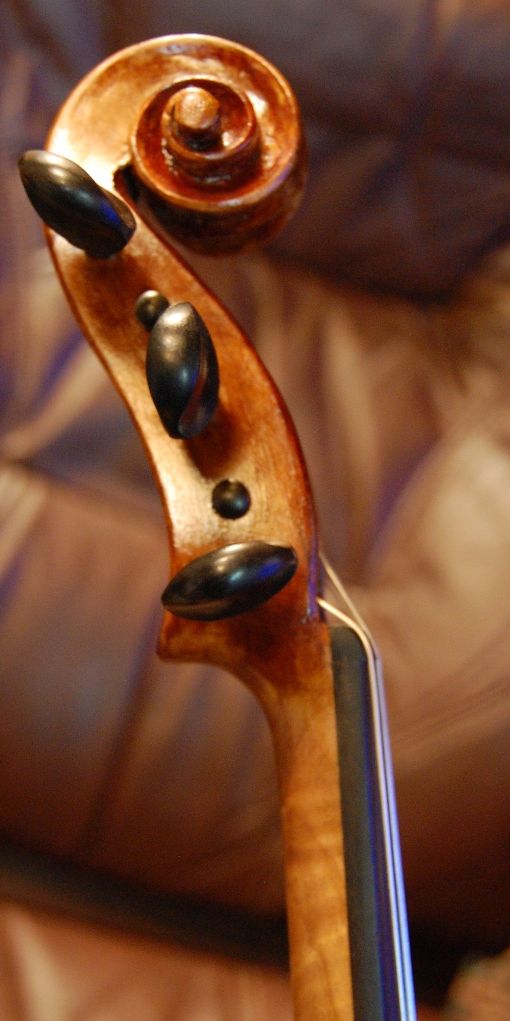 Daniel Forster playing Instrument #24 by Chet Bishop, Luthier from Chester O. Bishop on Vimeo.
~~~~~~~~~~~~~~~~~~~~~~~~~~~~~~~~~~~~~~~~~~~~~~~~~~~~~~~~~
Five String Instrument #2: an Oliver 5-string fiddle. (SOLD)
This instrument is the first I have made from the log pictured in the "wood choices" blog post. It looks and sounds wonderful.  Five-string fiddles seem to be rapidly gaining in popularity and demand. I hope to build many more 5 string bluegrass fiddles in the future.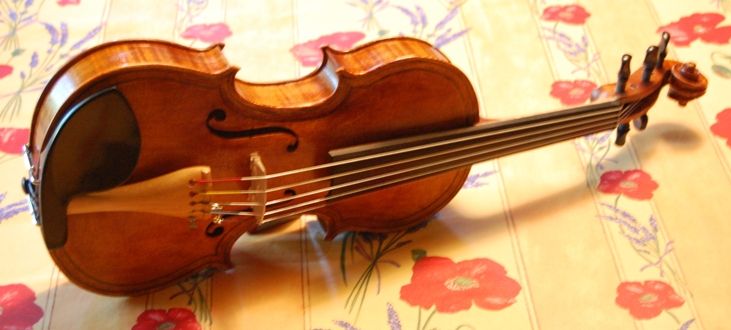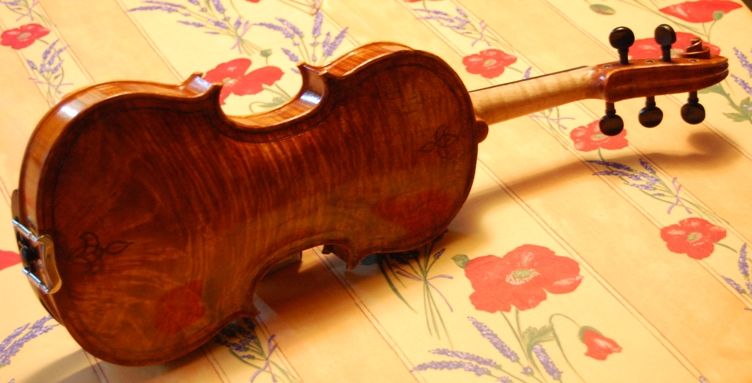 ~~~~~~~~~~~~~~~~~~~~~~~~~~~~~~~~~~~~~~~~~~~~~
~~~~~~~~~~~~~~~~~~~~~~~~~~~~~~~~~~~~~~~~~~~~~~~~~~~
Five String Instrument # 1: An Oliver Five-String Fiddle (or five-string violin) SOLD
This was my first attempt at a 5-string fiddle. An experienced and popular professional fiddler (Cliff Stansell) from a Southern Oregon band (the Pistol River Trio) had asked about them, so I decided to build one. It plays remarkably well…it is well-balanced, and all, but I am not used to the flatter bridge shape that fiddlers like, so it is difficult for me to get used to it. Other than that, I'm happy with it. As it turned out, it was loved by everyone who played it, and Cliff ultimately bought it. Now we are both happy. 🙂
I made the ribs deeper: 34mm at the end block, tapering to 32mm at the neck block. I also made the pegbox longer to accommodate the extra peg, and deepened the bass-bar to about 17mm, for more support on the lower strings. The archings are just a little higher than my usual, as well, but not out of the ordinary. The back is maple of uncertain origin, the sides and neck are Red Maple from Elon Howe, in Newaygo, Michigan. The belly is Sitka spruce. Not sure where I got the spruce, but it is quite dense. I usually do not use wood that dense for the belly. Turned out well, though.

~~~~~~~~~~~~~~~~~~~~~~~~~~~~~~~~~~~~~~~~~~~~~~