5-String Fiddle nearing completion
Custom Made Five-string fiddle Choices
Back in December, I received a commission for a new 5-string "Bluegrass" fiddle. It was to be made on the same form as one of my earlier instruments but have a two-piece, straight-grained Sitka spruce top and a very wild-grained Oregon Big Leaf maple back, sides and neck. The customer specifically requested Ipe for the Fingerboard, saddle and nut. Ipe is extremely hard, dense wood, but not threatened or scarce, as ebony is becoming. It has an odd color when under the knife, and leaves a bright yellow dust when it is scraped or sawn, but it finishes to a nice dark brown and darkens further with age.
Wild Grain Makes for Tough Carving
The last time I posted, I was just beginning the back plate arching. It was tough carving, as it is extremely "wild" flame, and the Big Leaf Maple grain is anything but straight. The result, of course, is some very beautiful wood. But it is hard work, regardless. The blades must be kept razor-sharp, and cuts must be kept shallow in depth.
The purfling requested was not only double purfling (favored by a few of the early masters, especially those of Brescia) but was to include a purfling weave, as well, in the form of a modified "fleur-de-lis."  This is a design I came up with on my first five-string fiddle, and have continued to use, in a variety of forms, ever since.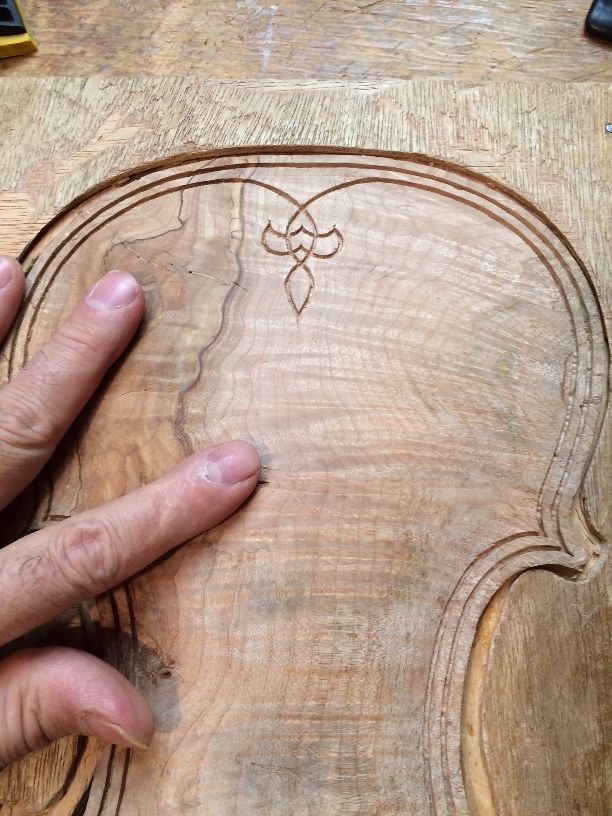 I like the look of the double-purfling and the weave, but it is pretty hard on my hands, as I still do all my purfling inlays by hand. I know a lot of makers use a Dremel-tool, or something similar. Perhaps I eventually will succumb to that "new-fangled" tool as well.
At any rate, here is the back plate, with the purfling complete:
Closing up the "Corpus"
I closed up the corpus a few nights ago: all that is left to do before varnishing is to complete the final carving of the neck heel, and all the final edgework, so that the wood is "varnish-ready."
I will show one more progress report during the varnishing process, and the last for set-up and playing.
Thanks for looking.