"Shop-made" 5-strings
Not my preference, but…
There are folks who want a five-string fiddle, and who can't justify the expense of a hand-made instrument, made by an American luthier. I completely understand that, so I am going to try an experiment of sorts: I bought two instruments in the white …unvarnished, incomplete, etc.  One is a five-string violin (standard size), with a one-piece back, and the other is a 15″  5-string viola.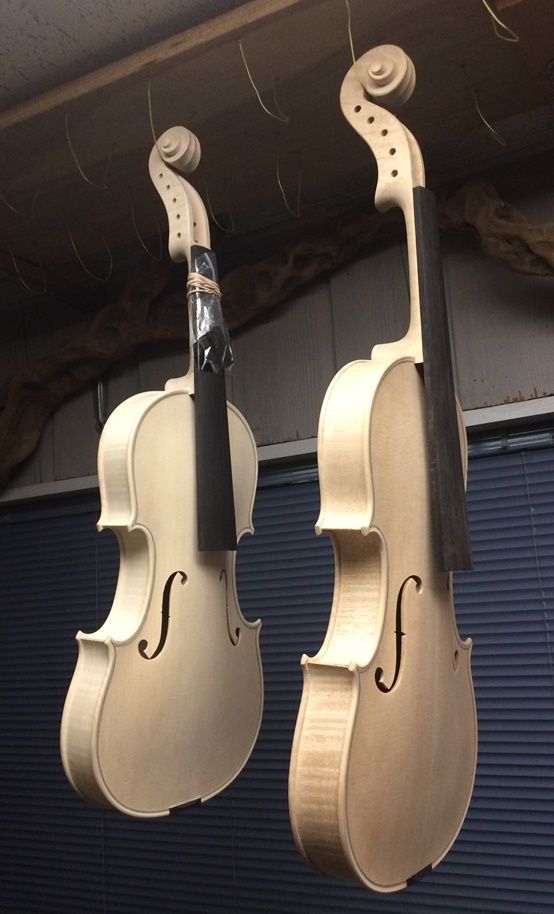 The viola looks much larger than the violin in this photo, but, in reality, the body is 1-1/16″ longer than that of the violin, with a proportionately larger neck and scroll.
Possible Glitches
I can see some potential problems, and I will see whether I can correct them before completing the instruments. There are certain details necessary to a good instrument that have been overlooked in these two. Specifically, it is needful to arrange the locations of the pegs in such a way that the higher strings do not rub on the pegs that are lower in the box. Both of these instruments fail that test pretty badly, but other than that, they seem to be very well-made, if possibly a little heavy.
Up until now, I have only bought standard, four-string instruments-in-the-white, and they have all turned out quite well. I hope I can make these two turn out to be great instruments, too, but… as I said, this is an experiment, of sorts.
At any rate, I will go over them carefully to try and bring them up to my standards as far as those things go. The workmanship is very good, though: I hope they sound great. I guess we will have to wait and see.
Shop Instruments, as a Principle
The advantage of using an imported, unfinished instrument like this, is that it drastically reduces my labor investment, and I can pass the savings on to customers who want a good instrument, but may not want to spend so much.
I label my shop instruments as "Atelier Chez les Eveques", (the Shop at the Bishops' Place.) Unlike my handmade personal instruments, they are not signed or numbered. But they are good instruments, and all who have bought them have been well-satisfied.
I will show progress on these two instruments as time permits. (We have had a host of home-repairs to worry us, lately….)
Thanks for looking.