Starting a new 5-String Fiddle
The Materials:
A few weeks ago I announced that a new fiddle would be beginning. Now I have a few photos to show:
The top plate is Sitka Spruce, from Bruce Harvie. The customer wanted "Oregon wood," and the Big Leaf Maple is definitely from in my neighborhood, here in Oregon (I helped harvest it;) but the Sitka is just a species that grows here…I don't know where it was harvested.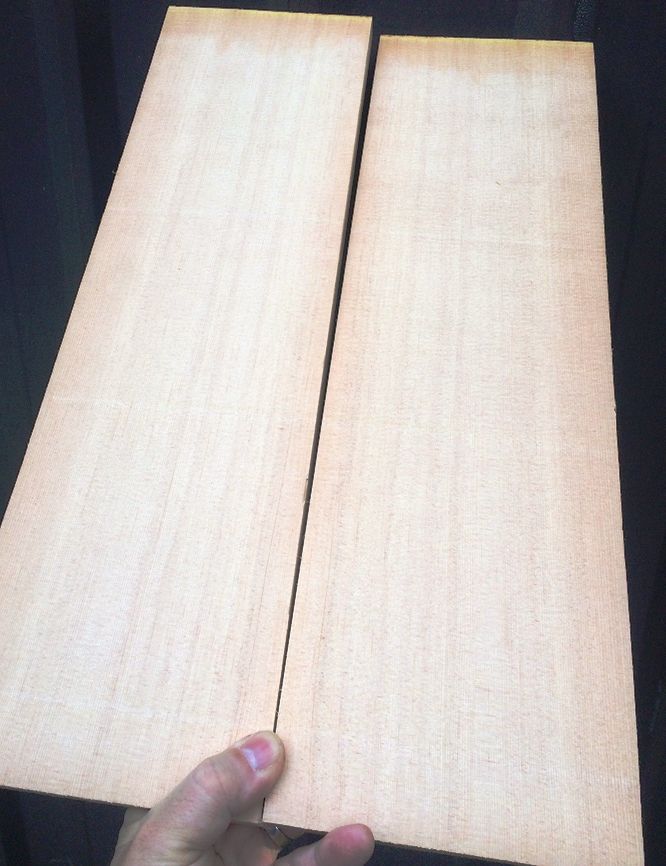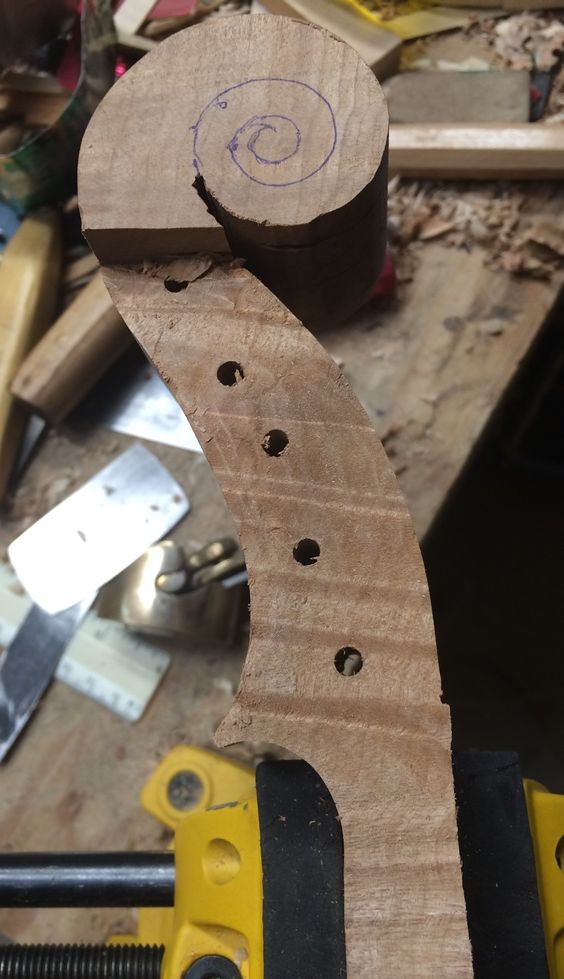 Beginning the work of building a 5-string fiddle:
I book-matched the spruce, to form the basis for the front plate: a solid plate with a tight glue-line down the center.
I used the mold (or form, as many people prefer to call it) that matched the fiddle the customer liked best. Then I added willow blocks to become the corners and end-blocks, and I traced the intended shape of the blocks from the mold template onto the back-side of the blocks, where they are flush with the mold.
Added the ribs, of the spalted maple the customer liked, and glued them to the willow blocks. Afterward, I added linings, also of willow, and let them into the blocks and glued them to the ribs and the blocks.
Then I traced the shape of the garland onto the top plate material, using a small washer as a spacer, and a ball-point pen as a scribe. I completed the corners using a straightedge and a series of circle templates. Finally, I marked the edge at exactly 4 mm thick, and carved the arching, using gouges and planes and scrapers.
Then I marked the layout of the double purfling and the f-holes, and began incising them into the Sitka Spruce.
Sometime in the midst of all the above work, I laid out and began carving the scroll and pegbox. That wild grain is very tricky to carve, as it changes direction constantly.
I went ahead and completed the purfling and the f-holes, so that I could prepare the plate to be glued to the garland.
I also added the bass-bar, chalk-fitting it to perfection, and gluing it in place, with hot hide glue. The bass-bar will be carved, planed and scraped to the proper shape after the glue dries.
The fingerboard is Ipé, as requested by the customer. It is an extremely dense hardwood, but not threatened as Ebony is beginning to be. It finishes to a dark brown and looks good, as well as wearing well. It is extremely difficult to work, though, so it may take time to become popular with makers. The saddle and the nut will also be Ipé, but the pegs will be ebony, simply because I have never mastered the lathe-turning of tuning pegs.
And that is pretty much where things stand, for now. I will try to post pictures as they become available.
Thanks for looking.