Guitars and 5-string fiddles at Wintergrass 2020
For most people, the Wintergrass Bluegrass Festival is an opportunity to hear dozens of dynamic players and bands. For a maker, like myself, it was an opportunity to present my instruments to a variety of players. for examination and "test-drives."
My son (Brian Bishop, of Bishop Guitars) and I, had only heard of Wintergrass a month earlier, from a wood vendor and Mandolin-player, Bruce Harvie of Orcas Island Tonewoods.  We attempted to contact Wintergrass, to ask whether any exhibitors' booths remained available, and ultimately, Bruce Adolph, one of the main organizers, contacted me to say that one exhibitor had backed out at the last minute, so, if we wanted it, that table was available. (Yes, we wanted it!)
As it turned out, we were squeezed between two other outfits, both with huge, prominent signs, so there was occasionally a little confusion, as folks assumed we were part of one or the other of our neighbors' companies, and never even saw our lovely sign.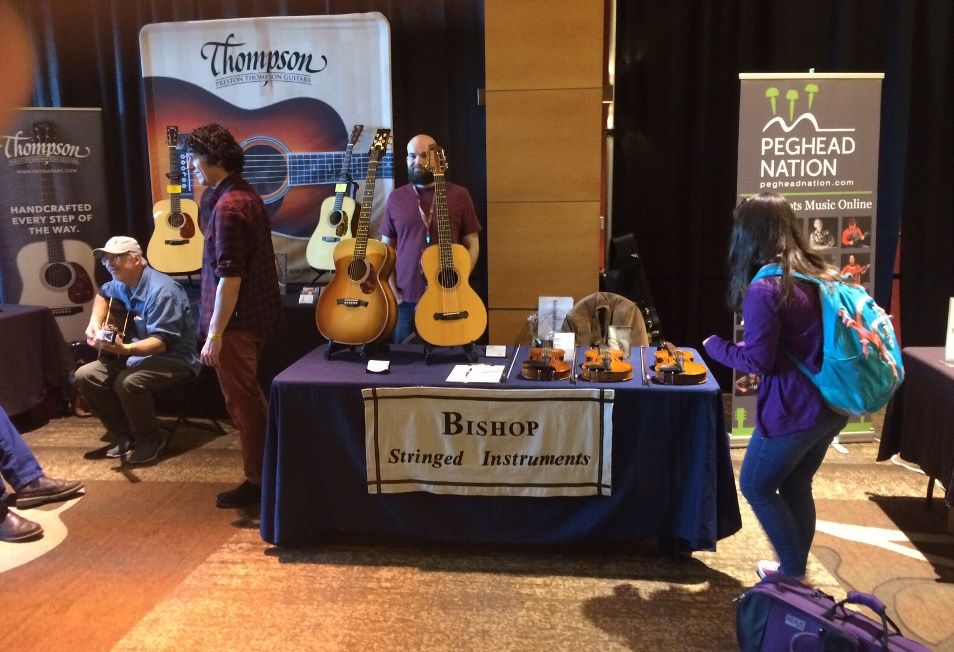 People frequently thought we were either with Thompson Guitars or with Peghead Nation. We had to point out the sign (It got a little crooked in the photo below.) Notice, too, that Brian and I had traded ends of the table. Why?
Because the big outfit two booths over to our right evidently persuaded the maintenance people to change the lighting, during the night, which robbed both Thompson Guitars and us of light. So Brian and I just swapped ends, so that Brian's guitars would glow in the light, and my violins would be a little more subdued. It was an improvement for both of us, and we were fine, but Thompson was really robbed, with no such remedy. Sad. Not a good way to treat your neighbors.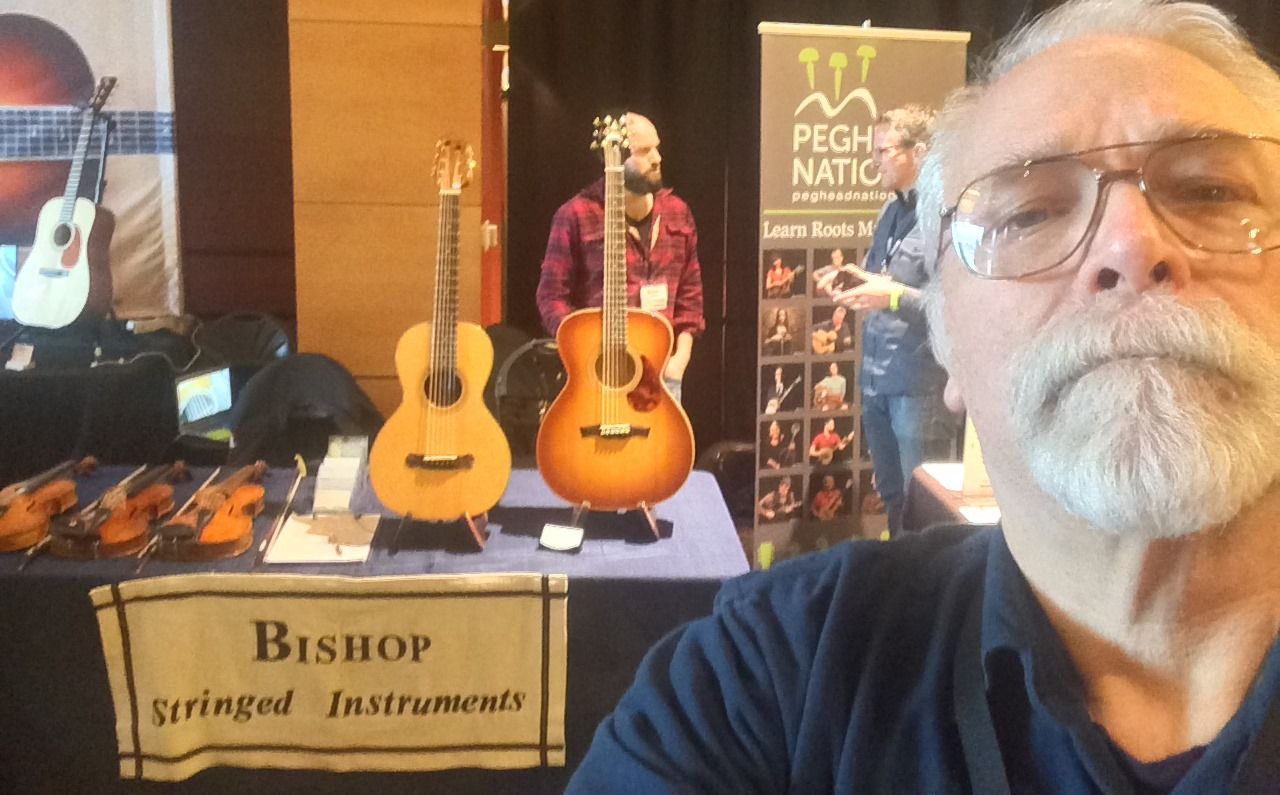 We were the only actual makers in the Dealers' Hall where our table was located…the rest were big instrument factories, mostly: Taylor, Eastman, Yamaha, etc. Our instruments were each individually handmade by a single luthier. Brian's parlor guitars and OM guitars were very well received, as were my 5-string bluegrass fiddles and my 4-string fiddle.
We got a fair amount of attention, though we were small and obscure, as players came by the table. Some had come there to perform in the show, and just decided to check out the makers. Others were there to enjoy the show, but, as players, they wanted to try out the instruments. It was very enjoyable.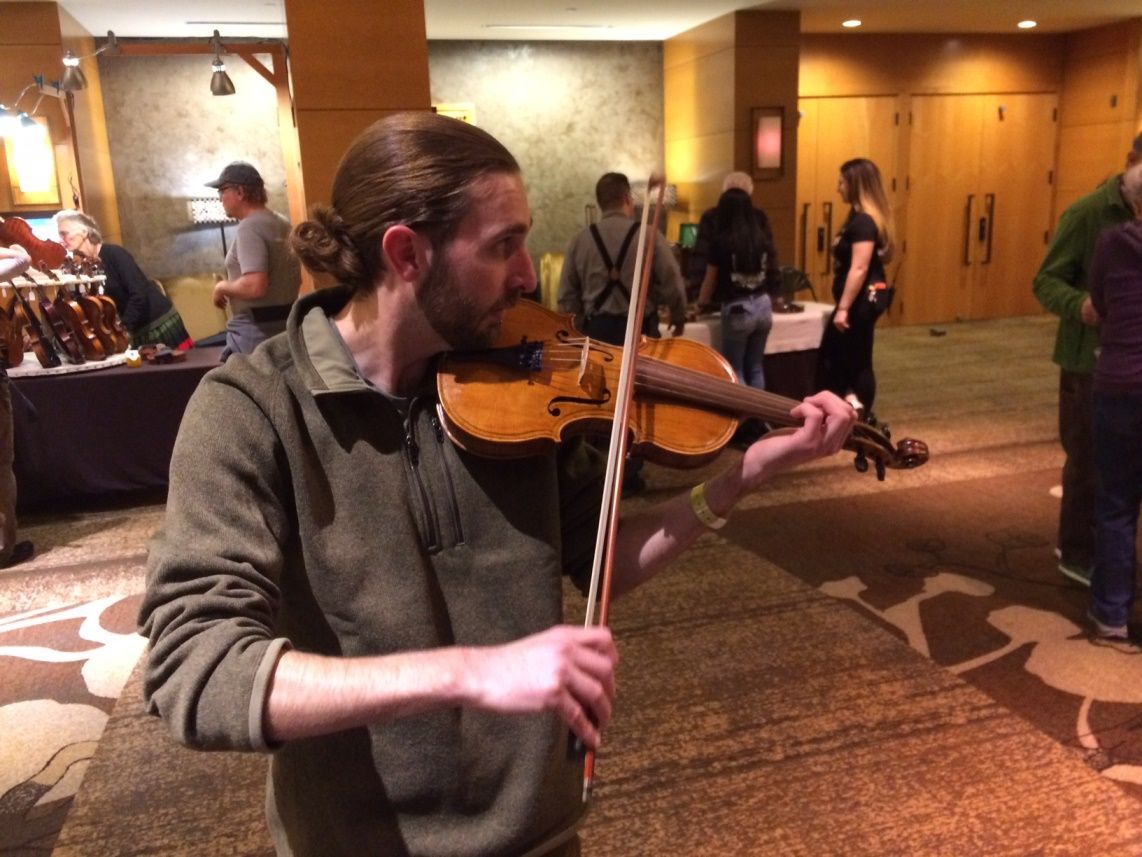 Everyone loved our handmade instruments (both the guitars and the fiddles) and some sales may eventually result. Either way, we will be back next year!
Thanks for looking.